B-124 ANTI- AGING PRODUCTS FOR MEN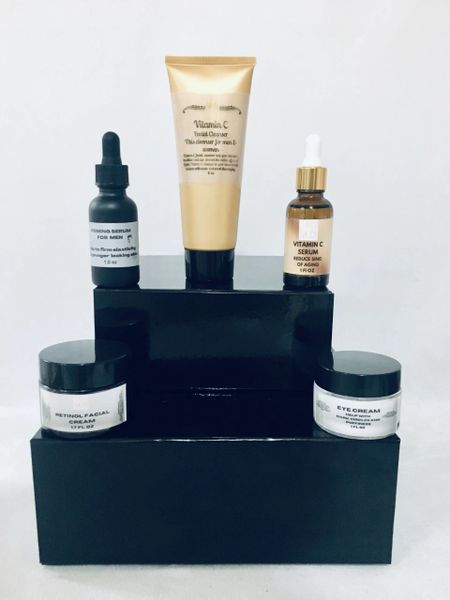 B-124 ANTI- AGING PRODUCTS FOR MEN
It is important for men to take care of their skin by following a cleansing routine.  Men Bundle Pack Anti-Aging Kit
help refine the skin tone, reducing the appearance of fine lines, wrinkles, and boosting brightness and radiance.
Vitamin C Serum:
Helps promote even skin tone.
Boots Radiance.
Helps eye area concerns.
Moisturizer:
Help strengthen skin while improving skin's overall texture and elasticity.
Visibly reduce the appearance of lines.
Effective daily moisturizer help smoother skin with consistent use.
Retinol Facial Cream:
Help your skin look younger and smoother.
Help hydrate the skin effective giving it a radiant glow even skin tone.
Promotes healthy cell, protection against damage from the sun .
Eye Cream:
Slowing down sings of aging, reduce dark circles.  You will see results as
long as you are patience.
Firming Serum:
Improves Elasticity.
Slow the aging process.
Smooth out wrinkles.